---
Since its debut on Broadway, West Side Story's legacy has grown in stature. It's been translated into dozens of languages, performed by high schools, colleges, and professional companies all over the world, and entered the pop culture lexicon in a way few other musicals have. It has also, since the very beginning, been controversial, and certain criticisms, particularly of the story's racial politics, have only grown in prominence over time. On this page, we'll look at its enduring presence on Broadway, the famous 1961 film adaptation, and how scholars have analyzed – and critiqued – its enduring influence.
Back on Broadway
Like most legendary musicals, West Side Story has returned to Broadway on more than one occasion. After its initial run at the Winter Garden and Broadway Theatres, the show went on a national tour. The original production returned to the Winter Garden in 1960 and later moved to the Alvin Theatre for a total of 249 performances on top of its initial run. For the next few decades, West Side Story enjoyed numerous high-profile productions around the country, as well as a celebrated production in London's West End featuring many of the original cast members. Its first full Broadway revival came in 1980 at the Minskoff Theatre and featured Debbie Allen, a multi-Tony Award-winning performer who earned a nomination for her portrayal of Anita.
---
The next two revivals of West Side Story demonstrate how all plays and musicals, particularly the classics, can adjust with the times – albeit temporarily, sometimes. In 2009, librettist Arthur Laurents returned to the show, this time in the director's chair, and oversaw some revisions to the text. This included translating two songs into Spanish: "A Boy Like That" became "Un Hombre Asi" and "I Feel Pretty" became "Siento Hermosa." Lin-Manuel Miranda, already a Tony-winner for In the Heights and later to win even more praise for Hamilton, assisted with the translations (which were aided by an uncredited translation used by a Colombian producer). Though many of the translations were later reversed, they indicate some effort was made to better represent the lived experiences of the Puerto Rican characters. More recently, a Broadway revival directed by Ivo van Hove has attempted to give the musical a more contemporary take by employing a more racially diverse cast and framing the action with film projections. The production received strong reviews after its debut in February of 2020 but was forced to suspend its run due to the COVID-19 pandemic.
---
On the Silver Screen
While the original Broadway production was a major event, it has perhaps been eclipsed by the 1961 film adaptation co-directed by Jerome Robbins. The film debuted right after the return Broadway engagement closed and while the London debut was still running. It was a smash, raking in $43 million, equivalent to $300 million in 2010 when adjusted for inflation. Whereas the play had walked away with only a few Tony Awards, the film scored an incredible ten Oscars, making it one of the Academy's most celebrated films ever.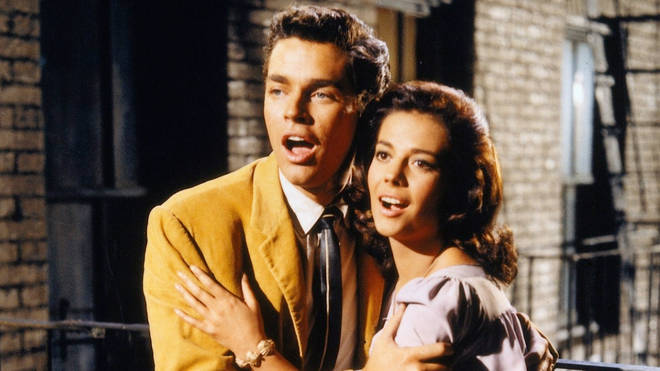 ---
Despite the film's obvious success, some critics denounced it for for much the same reasons as the musical. Ironically, all four of the original creators were dissatisfied with it for one reason or another, particularly Laurents, who called the final results "appalling." The process of making it also proved hugely challenging. The cast rehearsed extensively in California before shooting began in a hot, hot New York City in August (where they apparently hired an actual gang to provide extra security during the shoot). Though Robbins was heavily involved as co-director, he eventually lost control of the shoot and was fired by the producers, leaving Robert Wise to complete the film on his own.
While some performers from the original Broadway cast were brought onboard, many of the leading roles were new to the story and, as is still common in film adaptations of major musicals, chosen for their star power as opposed to their musical theatre chops. Natalie Wood, for example, took on the leading role of Maria despite being better known for dramatic films such as Rebel Without a Cause and Splendor in the Grass. The voice you hear coming out of Maria on film is, in fact, not her own but that of classically trained soprano Marni Nixon (a fact that did not please Wood at all). The role of Anita, meanwhile, went to Rita Moreno, who went on to win an Oscar for her portrayal and become a major star.
---
Sixty years after debuting in cinemas, West Side Story is getting a remake, with none other than Oscar-winning director Steven Spielberg at the helm. Spielberg has been an admirer of the show since childhood: his family owned a copy of the original Broadway cast recording, which he coveted. With the help of playwright Tony Kushner, who is reworking the script around the original songs, Spielberg is aiming to update the musical for modern sensibilities and correct some of the original's shortcomings. This includes actually casting Puerto Rican and other Latinx performers as the Sharks and their families, rather than employing a predominately White cast as the film (and, indeed, the original Broadway production) did. Original film star Rita Moreno will make an appearance as well, this time in the new role of Valentina, widow to Doc, the old man whose bar serves as a neutral ground for the gangs. The role of Anita, meanwhile, will pass to Ariana DeBose, an Afro-Latina actress who cites her presence as a further opportunity to highlight the racial tensions within the story.
---
Touchstones and Debates
Like all art, the original West Side Story was very much a product of its time. It has also been a lightning rod of controversy since the beginning. It's depiction of gang violence and juvenile delinquency struck many commentators as crass and morally repugnant, while many would-be producers objected to being involved in an "ethnic rumble" between competing racial groups. In some ways, this is what makes West Side Story a valuable work of art: because it confronts issues that were otherwise taboo in mainstream (White) American culture. After all, it appeared in the midst of the Civil Rights Era, when racial segregation was rampant and leading to horrendous acts of violence. For Bernstein, the show was nothing short of a plea for tolerance. Indeed, the musical's depiction of interracial tensions and the capacity to overcome them has helped maintain the show's popularity for decades. This is partly why artists such as van Hove, Spielberg, and Miranda have tried to update it for modern times: because to them, it still has something valuable to say.
Nevertheless, West Side Story's merits some criticism. As scholar Brian Herrera notes, the creators of the musical were drawn to the interracial conflict not out of interest in Puerto Ricans and their lived experiences, but rather by what would best suit the dramatic conflict of their musical. As a result, the musical is often criticized for playing into Latin stereotypes and suggesting that Puerto Rico itself is a primitive, backwoods island. Indeed, the original tryouts in Washington were threatened with protests by the editorial team at La Prensa, New York's leading Spanish-speaking newspaper. So while many great artists, including Latinx artists, are influenced by West Side Story, it is important to remember that its portrayal of society's ills is shaped made to serve the purposes of an entertaining musical, rather than a rigorous social critique. This applies to its portrayal of gang violence and youth disenfranchisement, which, though sometimes upheld as a conversation starter, was inspirational to the creative team but not exactly rendered accurately.
---
West Side Story was groundbreaking in its day and maintains a strong influence to this day. Like a lot of great art, its problems are often as compelling as its success. This is why subsequent revivals and films have retooled significant portions of its narrative and casting so that its strengths can be maximized and its limitations managed. Still, there is some debate over whether West Side Story should continue to matter at all. The arrival of Steven Spielberg's 2021 film has brought that very argument to the forefront. For some, West Side Story's technical achievements and enduring popularity are proof of its value and reason enough for it to be retooled for a new generation; for others, the fact that it is so outdated should prompt us to leave it in the past and focus on new, more culturally responsive work. What is important to remember is that who gets to tell a story and how is often as crucial as what the story actually is. The creators of West Side Story set out to create a modern re-telling of Romeo and Juliet and produce a masterpiece that advanced their own creative visions, not an accurate portrayal of interracial conflict and youth disenfranchisement. Other fine artists have told more accurate and compelling stories about these topics. Nevertheless, West Side Story is unlikely to go anywhere anytime soon. The only question is how it will continue to evolve in order to better reflect the landscape of today.
---
Consider This…
Puerto Ricans who live on the mainland are sometimes categorized as immigrants, but this is not technically true. As depicted in the show, some of these mistakes can be attributed to xenophobia and racism, but misunderstandings may also stem from the island's complex relationship with the rest of the United States. Puerto Rico is what's called a territory, which means its people are technically citizens of the United States, insofar as they are capable of serving in the military and electing their own leaders. However, they lack full representation in Congress – their representative in the House is a non-voting member – and are unable to vote in U.S. Presidential elections. To learn more about the island's complicated relationship with the mainland, check out this episode of Throughline, a podcast by NPR. You can also learn about the island's rich culture, vibrant ecology, and complicated history by visiting their official tourism site.
---
Bibliography
Berson, Misha. Something's Coming, Something Good: West Side Story and the American Imagination. Milwaukee: Applause Theatre & Cinema Books, 2011.
Breznican, Anthony. "A First Look at Steven Spielberg's West Side Story." Vanity Fair online. Vanity Fair, March 16, 2020, https://www.vanityfair.com/hollywood/2020/03/a-first-look-at-steven-spielbergs-west-side-story.
Gans, Andrew. "A Song Like That: Collaborators Reconsider Spanish Lyrics in West Side Story." Playbill.com. Playbill, August 25, 2009, https://web.archive.org/web/20090828011523/http://www.playbill.com/news/article/132241-A_Song_Like_That_Collaborators_Reconsider_Spanish_Lyrics_in_West_Side_Story.
Heller, Scott, Jesse Green, Matthew Lopez, Misha Berson, Isabelia Herrera, Carina del Valle Schorske. "The Great 'West Side Story' Debate." The New York Times Online. The New York Times, 1 December 2021, https://www.nytimes.com/2021/12/01/theater/west-side-story-steven-spielberg-movie.html.
Herrera, Brian Eugenio. "Compiling West Side Story's Parahistories, 1949-2009." Theatre Journal 64, no. 2 (2012): 231-247.
Oja, Carol J. "An Out and Out Plea for Racial Tolerance: West Side Story, Civil Rights, and Immigration Politics." Arts & Culture. Google, accessed 30 July, 2021, https://artsandculture.google.com/exhibit/IgJCyxXwWyd8Kg.
Ruiz, Vicki L. and Virginia Sanchez Korrol. Latinas in the United States: A Historical Encyclopedia. Bloomington: Indiana University Press, 2006.
Wells, Elizabeth A. West Side Story: Cultural Perspectives On an American Musical. Lanham, MD: Scarecrow Press, 2011.